Have you ever wondered who's behind Viva la Vida Buena? Yes, you're right. It's time to introduce ourselves! Our story: Marco & Isabelle.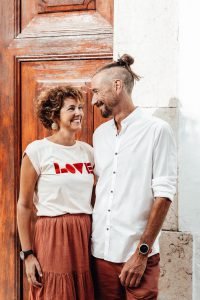 We are Marco & Isabelle and followed our heart to Spain. For us, Spain means enjoying the Mediterranean lifestyle, live 'tranquilo' and of course the flavors of the Spanish culinary life. We have been travelling and working in Spain ever since.
Like most of us we got ended up in the ratrace of work. We were craving for time together, enjoying life and catch up with friends and family. We couldn't get it managed until we decided to buy a holiday home in Spain. This became a life-changing step as we quickly realized we were more home in Spain than at home.
We wanted to enjoy life. To spend time togehter. To live the Mediterranean life. We wanted to live slower, more aware of who we are and where we are. An urge to live more with the seasons and the flow of daily life in Spain. We succeeded and enjoy the Mediterranean life every day now.
Viva la Vida Buena
With Viva la Vida Buena we try to endorse the Mediterranean way of living into our business. And so Viva la Vida Buena started: stylish homes in unique locations with an unbeatable view. Our goal is to let people soak into Spanish life, let our guests slow down and make them enjoy the Mediterranean lifestyle.
The stays of Viva la Vida Buena are more than a standard holiday home. You will instantly feel like you are at home because of the used quality materials, warm decoration and comfortable furniture. Our well-equipped kitchens got everything you need for a sunny breakfast with a view or a long Mediterranean diner in the garden.
You get the best out of your holiday with our personalized tips for going out, activities and shopping in the region. We rent out houses and apartments at the Costa Blanca North. At the moment you'll find us in Moraira, Vall de Pop (Jalon Valley) and Xàbia (Jávea, coming soon).
For us an unique holiday experience is found in the details. It's not only a nice house on a good spot. Everything should be perfect and makes you smile. From the first contact whilst booking until the moment of check-out. We intend to give you a holiday experience you'll never forget and even better, make you return.
Enjoy your stay with us!
Saludos
Marco y Isabelle